Block printing began in the 18th century in Rajasthan and since then has been passed down from one generation of skilled block printing artisans to the next. This craft has been traced back to areas which are now Andhra Pradesh and Gujarat.
It is the ancient art of stamping on fabric with blocks of wood drenched in natural dyes. It can take 5 carvers up to 3 days to create a pattern on the block. The designs are traced onto the surface and then carved with a hammer and chisel.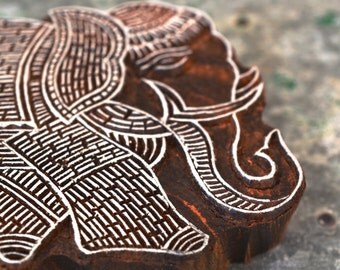 In traditional block printing, the blocks are dipped in vegetable dyes made from jaggery, pomegranate peels, indigo etc. This is still followed in many villages of Rajasthan and amongst many block printing artisans, who can easily tell the difference between native, eco-friendly dyes and chemical dyes. Block printing renders an artistic aura to the fabric which is difficult to replicate with machines and the artisans may take as many as 25 blocks to complete one saree! The colour is kept on a wheeled wooden trolley which the printer drags along as he prints.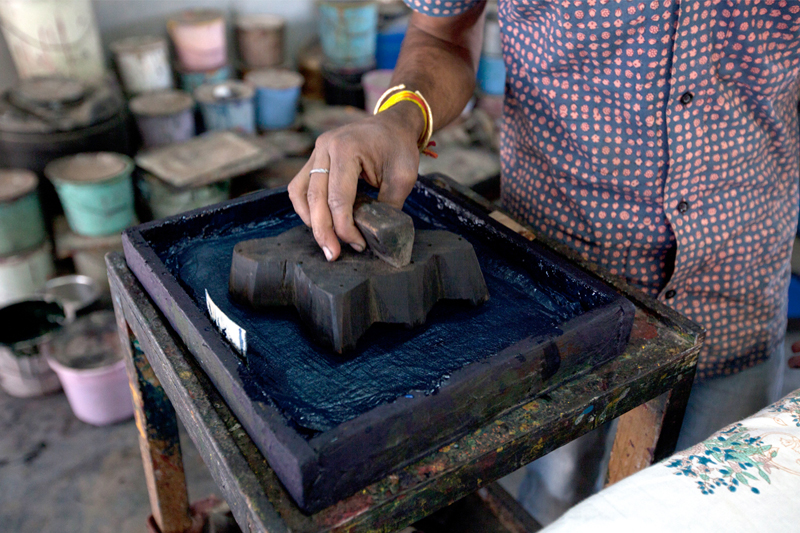 Ghanshyam, a block printing artisan from Bagru, Rajasthan, tells us that it takes two hours to block print one saree, but a lot goes in before and after the printing which forms an integral part of the process like bleaching the fabric with harda, a plant extract, that binds natural dyes to the fibers.
After block printing, the fabrics are spread out in the sun for 3-4 days so that the colour is fixed. Then, they undergo a final wash to get rid of any unwanted reminisces. The final block printed product is then ironed and packaged before being shipped to you.